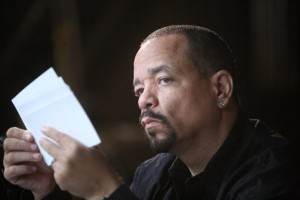 The case on this week's episode of SVU has a few interesting twists when a woman is found dead in a fountain. There's a few classic instances of misdirection, including the police arresting a creepy guy who cuts women's hair (not a real hairdresser) and the guy who had sex with her before she died. But both of those suspects are cleared quickly. That's when we learn that the victim is Lindsay Elding (a former cocaine addict), a PR director for a cola company. I think I haven't been paying much attention to the news lately, because according to this show, cola companies are up there with tobacco companies as purveyors of evil.
The hatred of cola companies led to Lindsay acquiring a lot of enemies, but she managed to get around most of them by investing the company's funds in charities. That's when the case takes a twist - Lindsay was actually killed by poisonous mushrooms. Well, inadvertently. The mushrooms made her delirious and affected her respiratory functions, causing her to drown in the fountain. Early in the episode we're also introduced to the new ADA, Mikka Von, who helps the detectives with the case.
To Read More Click Here.