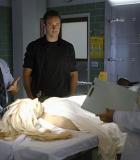 Where would our Hawaiian vocabulary be without Hawaii Five-0?
Each week, this CBS hit gives us a lexicon lesson via its episode title, as evidenced by the name of the October 18 installment: Nalowale. This word means "missing" or "forgotten," which is apt because the upcoming installment sends the team after the abducted daughter of a U.S. Ambassador.
We've posted the official preview for "Nalowale" below.