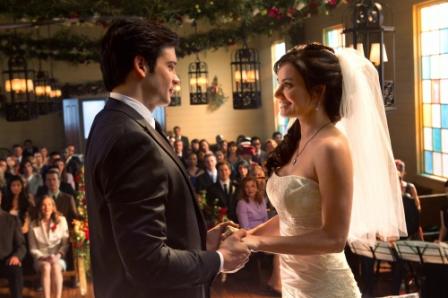 It's not often one gets to witness a series finale as epic as that of Smallville.
Going into the Finale, even I wasn't expecting something so special. Especially with all of my worries from last week about certain plot elements that weren't wrapped up yet. Yet what Smallville pulled off was nothing short of brilliant. It put to rest its roots in a satisfying and believable way, launching its characters into the ongoing mythology.
Thinking back to watching the pilot, I'm amazed at just how much Clark (and Tom Welling as an actor) have grown. A boy who slowly gone from wanting a normal life, feeling burdened by his powers, and a bit of an outsider to a man accepting who he is, embracing his destiny, finding the love of his life, and becoming a symbol of hope and a leader. 
All of that came together in the finale, but not before Clark received a few more life lessons from those he cares about. It was always one of the smaller moments of the series, the bits of advice Clark would receive from those around him. But it held up the theme of the show and brought a lot of weight to some of the show's more iconic moments.
I'm glad that it was something that was touched upon even in the finale. I've always felt those moments were what helped defined Smallville in the beginning. Read More...
http://www.tvfanatic.com/2011/05/smallville-review-finale-part-2/