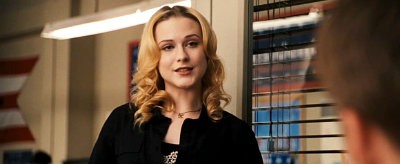 A new clip from "The Ides of March" has made its way out onto the web via Yahoo! Movies. Entitled "My Name Is Molly", the short video sees a flirty exchange of conversation between Evan Rachel Wood's Molly and Ryan Gosling's Stephen while they're at the office. 

In the clip, Molly stops by Stephen's office and reminds him that she has worked with him before. When Stephen seems unable to recall his memory of her, she decides to have a little fun and teases him with several false facts before noting the true ones. By the end of the conversation, she smoothly invites him out for a drink. 

"The Ides of March" presents Gosling as Stephen Meyers, a young press secretary who has built a career that men twice his age would envy. During a tight presidential primary race, however, Stephen's meteoric rise falls prey to the backroom politics. Meanwhile, Wood plays new campaign worker Molly Stearns.  Read More...