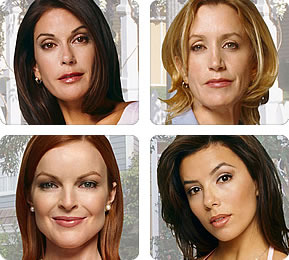 Count on a bit more hysteria from the ladies of Wisteria Lane.
Sources tell TVGuide.com that at a Wednesday cake-cutting ceremony marking 100 episodes of ABC's Desperate Housewives, series creator Marc Cherry announced that the prime-time sudser will be expanding its run to a total of nine seasons, versus the previously planned seven.
In February 2007, when Cherry inked a new four-year, eight-figure deal with ABC Studios, he revealed his plan to wrap up the story of Bree, Susan et al in 2011, saying, "At the end of my deal, and after seven seasons, it will be a good time to call it quits. I don't want anyone else to run the show, and I don't want us to fade away." In keeping with that sentiment, insiders suspect that Cherry may have already and quietly extended his own deal, so that he can remain at the helm for the two additional seasons.
As for the Housewives themselves, one source tells us that Marcia Cross, Teri Hatcher, Felicity Huffman and Eva Longoria Parker are all on board for the added seasons.
ABC has yet to comment on this story.
Source: TV Guide