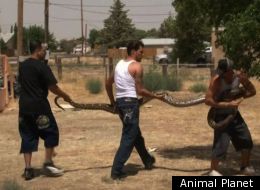 Patrick lives with more than 20 snakes and reptiles, including three reticulated pythons that are over 12 feet long. On "Confesssions: Animal Hoarding" (Fri., 10 p.m. EST on Animal Planet) it seemed like Patrick's obsession with the animals could be dangerous for him and them.
He took his snakes out for a walk in the yard each morning but, as his friend Les said, it just didn't look like he had full control over them while they were out there. As he wrestled with two huge constrictors in the yard Patrick said their size made taking them out more exciting.
While his young son watched on, Patrick's sister Shauna didn't think it was a safe situation and yelled, "Really, Pat? The snake is that big?" Despite him saying "it's a small one," it still took four men to carry it back inside.
"Confesssions: Animal Hoarding" airs Fridays at 10 p.m. EST on Animal Planet.
TV Replay scours the vast television landscape to find the most interesting, amusing, and, on a good day, amazing moments, and delivers them right to your browser.
http://feeds.huffingtonpost.com/~r/HP/Entertainment/~3/_NG5uEm0Oz0/confessions-animal-hoarding-patrick-snakes-video_n_1256694.html