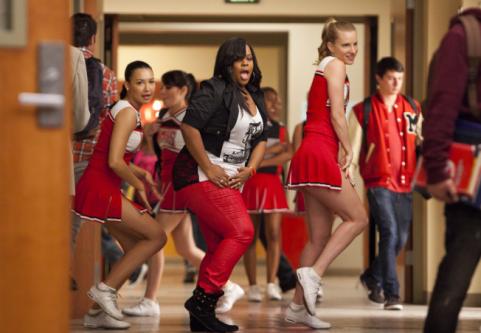 Glee
 went back to 1977 on "Saturday Night Glee-ver," paying homage to the film that made John Travola, white suits and spinning disco balls famous.
But the episode really used the past to pen a prologue for three key seniors, as Finn, Santana and Mercedes made major decisions regarding their future. Each has a much clearer idea now of what it will bring.
When season three started, it appeared as if Glee would tackle the daunting challenge of senior year, of truly figuring out what one wants to do with one's life. But somewhere between tribute episodes, Christmas specials and car accidents, that theme got lost. Until tonight.
I was mostly pleased with how it was handled, with the exception of the same complaint I make every week in this space: the random nature of storylines and the lack of character development. Take Mercedes, for example.
As she delivered her inner monologue, along with a great version of "Disco Inferno," I put on my Carrie Bradshow hat and couldn't help but wonder...
What do we know about her outside the choir room? What hobbies does she possess? What class does she excel in? Were you aware her father was a dentist (what an arbitrary throw-in, too: why wouldn't a dentist support a singing career?) before that nugget was dropped? Read More...
http://www.tvfanatic.com/2012/04/glee-review-from-past-to-prologue/