VIEWER DISCRETION STRONGLY ADVISED!
Finale tidbits: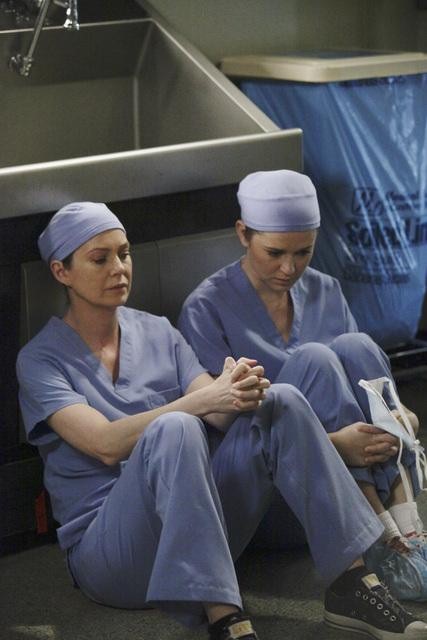 1. Reed will get shot right in the head. Yep, goodbye little Surgical Brunette Tinkerbell! As brutal as it is. :(
2. Cristina and Callie will share a vulnerable moment-turned-hilarious by these fabulous actresses.
3. YEP. Meredith is OFFICIALLY pregnant.
4. April and MEredith share a moment in the scrubbing area. Why? Come on!
5. Mandy Moore is a patient with a colostomy.
6. Bailey's boyfriend get shot?
7. Callie snaps at Arizona.
8. Karev gets shot.
9. Lexie chooses Mark.
10. Callie and Arizona have sex.
11. Derek survives.
12. Leslie and Mark get married. (No, not a typo error. Just a dream :p)
Uhmm, believe what you want to believe with those crazy lines. EItherway, some are true, some are not. Told ya, you have to wait until later to find out. I don't want to ruin the crying, the screaming, the "Sh** did that just happen???"
As promised, here's the first ten minutes:
I love you Shonda Rhimes. Yes, you rock!
Grey's Anatomy two hour Season Six finale airs tonight, May 20, 2010 9/8 central on ABC starring Ellen Pompeo as Meredith Grey, Sandra Oh as Cristina Yang, Katherine Heigl as Isobel Steven, Justin Chambers as Alex Karev, Chandra Wilson as Miranda Bailey, James Pickens as Richard Webber, Sara Ramirez as Callie Torres, Eric Dane as Mark Sloan, Kevin McKidd as Owen Hunt, Jessica Capshaw as Arizona Robbins, Kim Raver as Teddy Altman, and Patrick Dempsey as Chief Derek Shepherd.