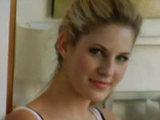 Stephanie Leigh Schlund has been cast as Cashmere in The Hunger Games: Catching Fire, Lionsgate has announced.

The actress, from Atlanta, Georgia, has appeared in television shows such as Drop Dead Diva and films including The Last Song. 

Cashmere, a former Career tribute from District 1, is competing alongside brother Gloss (Alan Ritchson) in the Quarter Quell in Suzanne Collins's best-selling novel. Read More...

http://www.digitalspy.co.uk/movies/news/a399466/hunger-games-catching-fire-casts-stephanie-leigh-schlund-as-cashmere.html