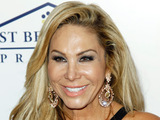 Real Housewives of Beverly Hills star Adrienne Maloof has revealed that she is working on her relationship with her husband.

Maloof confirmed last month that her spouse Paul Nassif had decided to file for legal separation.

However, she has now told People that their marriage is not necessarily over yet.

"We're at that point where it's that bump in the road, [but] we're trying to work things out," Maloof said. "I always like to keep a positive attitude and hope that we can resolve our differences." Read More...

http://www.digitalspy.co.uk/showbiz/s73/real-housewives/news/a398630/real-housewives-adrienne-maloof-working-things-out-with-husband.html