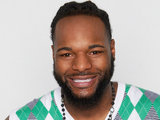 Jermaine Jones has reunited with his former American Idol co-stars.

The singer was disqualified from this year's competition after it emerged that he had lied about his criminal background.

Jones purchased tickets to the American Idol live tour on Tuesday (August 21) at Philadelphia's Wells Fargo Center. His friend and third placed-singer Josh Ledet gave him backstage passes. Read More...

http://www.digitalspy.co.uk/showbiz/s91/american-idol/news/a401965/american-idol-disqualified-singer-jermaine-jones-reunites-with-stars.html