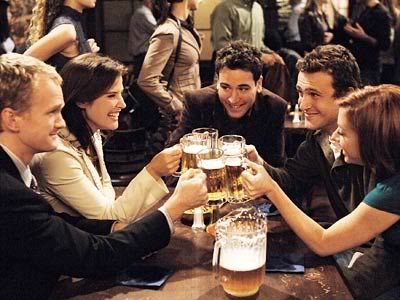 Often, when I tell my friends that I watch HIMYM, I am met with responses like "Really? Do you watch Grey's Anatomy right after and then gorge yourself on ice cream and Kate Hudson romcoms and lameness?" or maybe just a simple "Oh. I think I just saw someone cool across the room.." They're not really this bad, but lets be honest. Most people who watch any TV these days have to be kind of elitist jerks sometimes, because most TV is, well, just that sucky. And this outlook often leaves me struggling to explain why this show is so damned lovable.
Yes, it's a little like Friends. I watched friends in elementary and middle school, and I'm not sad that I did. Well, maybe certain seasons... But I digress. If you were to take Friends, feed it some primo ground, corn fed South Park, alter its DNA with the very best parts of Malcolm In The Middle, and make it for adults instead of tween-appropriate, you might end up with a beast somewhat like this show.
I mean, it's obviously meant to be a bit of a farce of Friends. They hang out in a bar, not a coffee shop, for one. And while the focus of any given Friends seemed to be to have funny sitcom-bits of dialogue interspersed into an episode centered around some character drama or burgeoning relationship crap, HIMYM is.. well actually doing something similar. But there's an important distinction, because, yes, the story is narrated by a thirty-something sap of a love starved commitment junky, and often times it may seem like the episode is about the character drama of his wedding day or his first date or whatever. But it's not really. It is all usually a backdrop, or a character drama-canvass, used to paint some awesome point about, say, the real nature of brunch, or that thing where you notice something annoying about a friend and then can't stop noticing it even though it was always there before (ya, some of em would take a solid paragraph to explain their awesomeness). And just wait until Barney starts taking over episodes, because Mr. Harris is a genius.
Usually, because these events are told from the view of an old married dude talking to his children, events culminate in some life-lesson style epiphany. And while that may seem like a stretch for episodes like The Naked Man (ever wonder what the success rate is if you get buck naked when a first date leaves the room for a second? Remarkably good apparently), it actually works out very well. Because you really do care for all four main characters, and surprisingly soon. Maybe all of us fans have daddy-complex's, but this formula leaves you feeling attached to these people before you even realize you are hooked on the show. Which means the more developed the show gets, the more you laugh at the little character based dialogue between them that isn't actually part of the main storyline gag. When Lily can't keep a secret, it cracks me up. Any other sitcom with this type of tired, Rachel-style joke will make me sigh and hope the rest of the episode is worth my time. HIMYM recycles these types of things beautifully, because the writing is so well done and the actors are excellent.
So, if your friend was excitedly telling you how great this show was, or you watched half of some random episode in season three, and you just don't get it, I strongly suggest giving it a real whirl. Download season one and tell me you're not in love by the fourth episode. I dare you. Because I'm sure that even though I've just tried as hard as your earnestly gesticulating friend did to explain why this seemingly run-of-the-mill show is so incredibly great, I know that I have surely failed to convey what this show truly is. If there is such a thing as high-brow humor, and I am increasingly convinced that there is, then this is it. Don't miss it.