The mid-season finale has come and gone, and I have to say as much of a proponent of this show as I have been, I have been left disappointed. Ups and downs, but it ended exactly as I said it would- with a proposal. I guess I didn't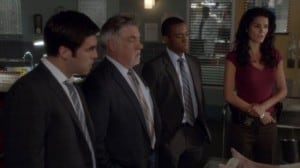 specify that I guessed there would be a cliff hanger- but I totally was guessing that part too. I swear.
Let's break down some of the stories, shall we?There is the murder, or murders in this case. I knew this was weird because there are never two murders on this show. I wasn't wrong, but I will save the Strangers on a Train reference for the show (they totally called themselves out). A man and a woman, with no connections but the dog park, kill the person the other needs killed. The motives are never 100% clear but Korsak makes a comment that the lack of dog barking must have meant that the dog knew the killer. But if there was no connection, how is that possible? Also, for a professor who is going for tenure to have office hours at her own HOME, I'm calling it. I get it, she's a sociology professor and sociologists are a special breed but no professor would ever be allowed to hold their office hours there. It's inappropriate.
Read more at http://www.tvovermind.com/tv-news/rizzoli-isles-review-4-12-partners-crime-221219#4TQOVKHbmsfLqitr.99