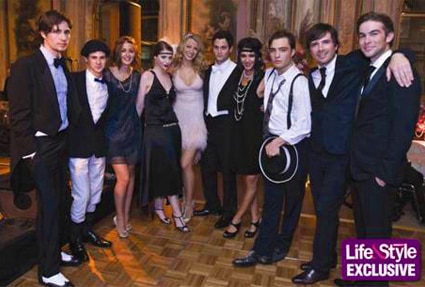 Blake Lively just turned 21, but she still seems stuck in the '20s.
The Gossip Girlstarlet and all her castmates celebrated with a 1920s-themed bash at the Palace Hotel, natch. The birthday girl planned the entire soiree herself.
"I love to plan parties," Blake told Life & Style. "That would be my career if I wasn't an actress."
Soulful singer Michael Bublé serenaded her with a special version of "Happy Birthday to You," while guests downed peach mimosas.
Lively, who doesn't like to drink, toasted with Coca-Cola, instead of the other bubbly beverage.
And any news about Penn Badgley, with whom she's linked both on and off camera?
"They were very cozy," according to an onlooker.
WANNA HEAR GOSSIP GIRL LEIGHTON MEESTER SING?
Any thoughts?
BLAKE LIVELY TAKE A BREAK FROM FASHION WEEK, FOR A LITTLE PENN TIME.
Last, but not least here is some pictures of Blake and Penn filming Gossip Girl September 9th.
Blake and Penn filming Gossip Girl
-Nickz