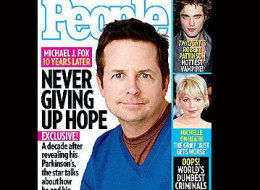 Ten years after shocking the world with the announcement that he has Parkinson's, Michael J. Fox is aggressively fighting the disease - and says he still sees a bright future ahead.
"Based on how I feel now," the star tells PEOPLE in its new issue, "I'll be okay for at least 10 more years."
Since leaving Spin City in 2000 - two years after revealing his Parkinson's diagnosis on the cover of PEOPLE magazine - Fox, 47, has been focused on raising his four kids with wife Tracy Pollan, 48, and helping The Michael J. Fox Foundation for Parkinson's Research pour $140 million into fighting the disease.