Uh-oh! Blair's (Leighton Meester) misbehavior last week on Gossip Girl has not been forgotten by Chuck Bass (Ed Westwick), and he's going to have to punish her a little so she learns her lesson.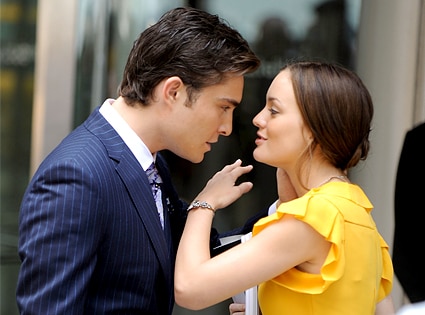 Sadly for us Chair fans, there will be no actual spanking--he's just freezing her out of his party. (But don't panic! As we reported last week, Chuck and Blair are solid for the foreseeable future.)
What else goes down in tonight's "How to Succeed in Bassness" ep? Check out the three other sneak peeks below to see what's in store for Jenny Humphrey (Taylor Momsen) back at high school. (Looks like Little J has some ongoing mean-girl issues to resolve before she's the undisputed Queen B of Constance-Billiard...)
E!Online - Gossip Girl Sneak Peeks: Chuck Spanks Blair
Are you going to watch Gossip Girl tonight, or are you busy carving jack o'-lanterns and putting the finishing touches on your sexy nurse costume?