Peter Gallagher revisits his Sex, Lies and Videotape bad-boy ways when he shows up on Californication this fall to stir up trouble for David Duchovny's Hank Moody.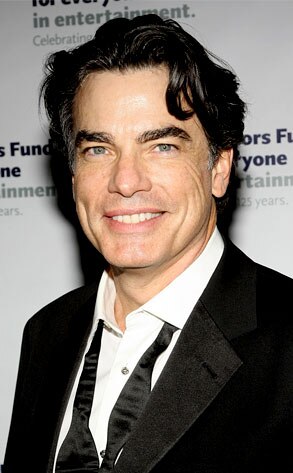 The former The O.C. star recently told E!Online that he's had "about as much fun as any actor is allowed to have" playing Dean Stacy Koons on the Showtime series. But that's not all he spilled. Here's the lowdown on what we can expect in the new season...
Tell us about your character.
I play the dean of the university, and my daughter [Chelsea, played by Ellen Woglom] and David's daughter are best friends. Hank and Dean Stacy Koons have a marvelously, antagonistic, yet respectful occasional relationship.
Do you get to do the fun stuff--the sex, drugs and rock 'n' roll scenes?
Yeah, pretty much all of those things. And there's a lot of violence.
Do you get beat up, or do you do the beating?
Both. We have an epic brawl at the end.
Over what?
What can I sneak? Let's see, the first one is that I'm wearing some skintight clothes. And the last one, I'm wearing a Civil War uniform. And there are guns involved. That's all I can say.
How many episodes are you in?
I did 8 out of the 12. I've had the time of my life. It's about as much fun as I've ever had. The scripts are hilarious.
What makes it different than other gigs?
What's great about it is it's really, really, really well-produced and really, really, really well-written. And that's what makes all the difference in the world. The writers are amazing. Each episode, I laugh outside just reading it. And they create an environment where good things can happen--so we can all bring our best game.
You're also a singer, so do you end up singing in any episodes?
Yeah, actually. It's a Sinatra-esque ring-a-ding-ding kind of song. It goes like this, "Each my peach, blow on my dice/ Come on baby, don't you dare treat me nice." I forget exactly how it goes. It's kind of dirty, but kind of fun.
Season three of Californication debuts Sept. 27 at 10 p.m. on Showtime.
What kind of trouble do you think Hank's going to get into this season? Click below for two season-three trailers.
Source:
E!Online - Peter Gallagher Dabbles in Sex, Drugs & Rock N' Roll on Californication