Eastwick (ABC)
Premiere: Wednesday, Sept. 23, 10-11 p.m.
Time-Slot Competition: CSI: NY, The Jay Leno Show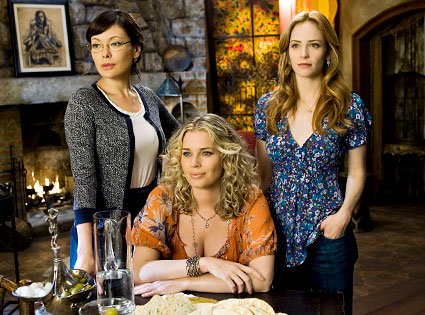 Cast: Rebecca Romijn, Lindsay Price, Jaime Ray Newman, Paul Gross, Sara Rue, Matt Dallas
Status: We've seen the first episode..
Should you watch Eastwick? Read on...
Oh, Eastwick. Where did you go wrong? Your show has witches, Rebecca Romijn, Lindsay Price, Sara Rue, a talented show runner and some respectable source material. So why is this rendition of Eastwick, at least as evidenced by the pilot, so unbelievably cheesy and dull?
Yeah, cheesy and dull. It brings us no joy to say this. Rebecca Romijn is a wonderful woman! We love witches! (We watched [Charmed]] until the bitter end.) The movie was awesome girl-power cheese! But this...This is just a debacle.
Why are we so down on Eastwick? Well, because we had high expectations right up until we saw the first pilot preview at upfronts, and then we just knew this was going to be all wrong. The devil is a douche instead of a dark and debonair evildoer, the setting is quite clearly the same town-square setting they used for Stars Hollow and Hazard County, there's no magic in the magic, the three leads don't have a lot of chemistry, Sara Rue is saddled with a thankless background gig, the writing is heavy-handed and derivative, the music selections are disastrous ("Bad Things" from True Blood for the promos and then "Baby Did a Bad, Bad Thing" from Eyes Wide Shut for the closing credits--seriously?) and generally speaking, there's something off-putting about the entire production.
Everything just feels clunky. For example, the three witches are "activated" when they simultaneously throw coins in a fountain. The scene comes off as nothing more than a lucky happenstance--and thus, there's no true fantasy to it. (The coins-in-a-fountain scenes in the Wonder Falls pilot had orders of magnitude more...wonder.)
With any luck this show will get smarter and better after a couple of episodes, but for now we're just plain disappointed.
Verdict: Pass
Source: