NCIS: Los Angeles (CBS)
Premiere: Tuesday, Sept. 22, 9-10 p.m.
Time-Slot Competition: Melrose Place, Dancing with the Stars, The Biggest Loser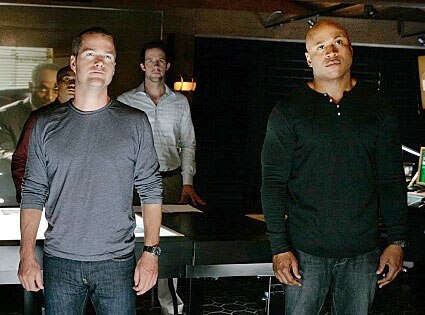 Cast: Chris O'Donnell, LL Cool J, Linda Hunt, Peter Cambor, Adam Jamal Craig, Daniela Ruah
Status: We've seen the two NCIS crossover episodes and the first episode of the season.
What's NCIS: Los Angeles all about? Should you watch? Read on...
LL Cool J and Chris O'Donnell together on an NCIS pilot is like pineapple on pizza: It doesn't sound good on paper, but it's surprisingly delish in actuality. This former tights-wearing Robin and gold-chain-adorned hip-hopper somehow make for a compelling, convincing and charming pair.
Here's the gist of it: NCIS: Los Angeles is set in Los Angeles' Office of Special Projects, a division of NCIS that apprehends criminals who pose a threat to national security, and the show shines a spotlight on the life of deep undercover agents. Chris plays Special Agent G. Callen, a former CIA, FBI and DEA agent who's a bit of a loose cannon. LL plays his partner, Special Agent Sam Hanna, a former Navy SEAL who is wiser, more experienced and looks out for Callen in a brotherly way.
What do we love about it other than the badass buddy team of Chris and LL? The tricked-out ops center and high-tech surveillance gadgets are exciting and edgy. ("There's all this Lockheed Martin technology in there. It's really, really cool," says Mr. Cool himself.) Being graced with Oscar-winner Linda Hunt's presence (as office manager Hetty) every Tuesday night is truly one of the best TV treats of the season. And though NCIS' goofy, comedic moments are part of its appeal, we're happy that Los Angeles has a slightly cooler and sexier tone.
Verdict: Watch
[Alternate point of view, by Jennifer Godwin: The season premiere of NCIS: Los Angeles is unremarkable and verging on junky. The action is derivative, the plotlines are dull and overall Los Angeles looks and feels like a cheap, uninspired knockoff. Linda Hunt's a badass, and LL Cool J is cool, duh, but the only other intriguing character was Dominic, a Spencer Reid-esque background nerd who talks too much. CBS will no doubt grant NCIS: L.A. time to grow into itself and gain its, er, sea legs, but for now, blah. Pass.]
Source: