The Good Wife (CBS)
Premiere: Tuesday, Sept. 22, 10-11 p.m.
Time-Slot Competition: The Jay Leno Show, Sons of Anarchy, The Forgotten (TV)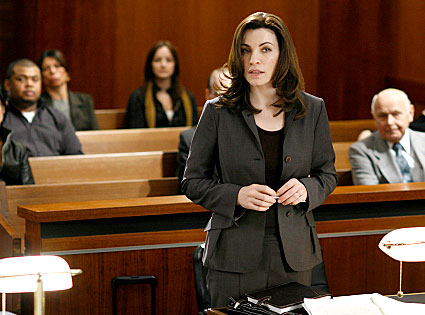 Cast: Julianna Margulies, Chris Noth, Christine Baranksi, Josh Charles, Archie Panjabi, Matt Czuchry
Status: We've seen the pilot.
What's The Good Wife all about? Should you watch? Read on...
We've seen it countless times. The politician is caught with his pants down, and his supportive wife stands stoically by his side as he makes his apology or resignation speech. The two walk hand-in-hand from the podium, and you just can't help but wonder: What happens next? How could she be all Tammy Wynette like that and stand by her man considering what he did? What's really behind that stoic face of spousal support?
These are the questions that The Good Wife attempts to answer. Julianna Margulies plays Alicia Florrick, the betrayed wife to Chris Noth's cheating state's attorney Peter Florrick. "I loved how complicated she is," says Julianna. "This is a woman who's thought her life was going one way for many, many years and who trusted that life and that world that she lived in. And then everything crumbles. We're going to be able to peel her like an onion for years to come, because how do you react? I was so quick to judge all those women that I saw standing up and standing by their man. In my head I kept thinking, 'Well, why are you standing there?' "
But before you think Alicia isn't a strong female character because she chose to stand by her man, think again. The show runners say it's yet to be determined just how good of a wife she really is. "We always meant good ironically," says Robert King, executive producer and creator.
This is not just a show about a family torn apart. It's also a sharp courtroom drama with a twist. After a 13-year absence from her career as a lawyer, Alicia is forced back to work as a junior associate who isn't exactly welcomed with open arms by fellow young lawyers at the firm.
Verdict: Watch
Source: