Accidentally on Purpose (CBS)
Premiere: Monday, Sept. 21, 8:30-9 p.m.
Time-Slot Competition: Dancing with the Stars, House, Heroes, One Tree Hill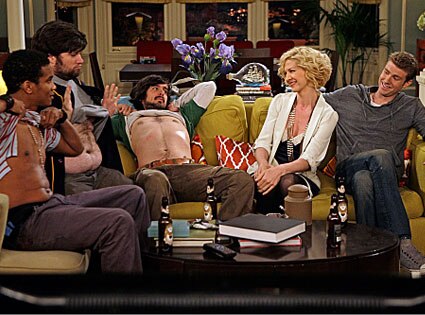 Cast: Jenna Elfman, Ashley Jensen, Jon Foster, Grant Show, Lennon Parham, Nicolas Wright
Status: We've seen the pilot.
What's Accidentally all about? Should you watch? Read on...
We didn't realize we how much we missed Jenna Elfman on the small screen until this hilarious rom-com lovefest came across our desks. From the opening scene where Billie's (Elfman) hilarious BFF Olivia (Ashley Jensen of Ugly Betty fame) suggests she perk up her nipples before seeing ex-boyfriend and boss James (Grant Show) to the Skittles line that's LOL funny even after repeated viewings, Accidentally on Purpose doesn't skimp on the girlie good times.
Here's the scenario: Billie is a 37-year-old San Francisco film critic who dumped James for not popping the question on their third anniversary. When she decides she wants him back, he's unavailable, so she does what any heartbroken cougar would do--have a one-night-stand with a twentysomething hottie. Enter chef Zack (Jon Foster). By the end of the pilot episode, she's knocked up with the kid's kid and makes some very complicated life choices that are pregnant (yes, we went there) with hilarious storyline possibilities.
The exchange that keeps us giggling is this: When asked what sex with a young stud was like, Billie jokes, "Like eating candy." What kind of candy? "Young candy. I'm not kidding--he smelled like a Skittle. I feel like I tasted the rainbow." OK, maybe it sounds better from Jenna's charming mouth, but you get the point.
"What excited me was I thought this character was so refreshing. I loved her wit," says Jenna. "And the subject matter I thought was timely, and it was actually funny."
Funny indeed.
Verdict: Watch
Source: