Heroes - Elle
This year Heroes has proven to us that no one is really a hero, and no one is really a villain... and to that we say, yes, but one can be all hot baddie! Part villain, part hero, all the better - just more hottness to love! While there are a couple characters on Heroes who qualify as hot baddies of the year, the title for this show feels to most deservedly go to Elle, literally the hottest confused villain this show has ever seen. Elle has remained lightning hot throughout her 2008 run on Heroes and she shall be missed!
Gossip Girl - Chuck Bass
With just a few little words, this young man became the most sexy baddie known to the land of teenage hearts: "I'm Chuck Bass." He may be saying it to prove he can manipulate his way into any girl's bed, he may be saying it to explain why he's a high schooler in a limo with a bottle of Scotch in hand, or he may be saying it to win a most horrible person contest with his friends, but anyway about it, it always wins and it never, never becomes cheesy.
Lost - James 'Sawyer' Ford
While there are some big bad guys and gals on Lost, they're all too creepy to win over our hotness-craving hearts, so our hottest baddie here goes hands down to Sawyer. Why? A) Sawyer is not his real name. It's the alias of the man who conned his parents, leading his father to kill his mother and himself, and our Sawyer took the name on as part of his quest to find that man and kill him. B) He did find that man and kill him - after he mysteriously appeared for not him, but his son, John Locke, on the island. And knowing all the facts, Sawyer still killed the man in cold blood. C) The man's shirt mysteriously disappears at the perfect moments like post-jumping out of a plane and emerging dripping from his long ocean swim to shore. Yum. D) He inspired a woman who hadn't showered for weeks to climb into an outdoor bear cage to have sex with him.
Grey's Anatomy - Alex Karev
While there are plenty of McHotties on Grey's, the McBaddest of them all is certainly Dr. Alex Kurev who can't control his inner-baddie long enough to keep a girl liking him for more than a few tousles in the break room... except of course for the few who made the mistake of falling further only to be burned even more harshly by his lack of commitment and personal history packed with issues that allow him to be nothing but a baddie with a sweet heart somewhere in there.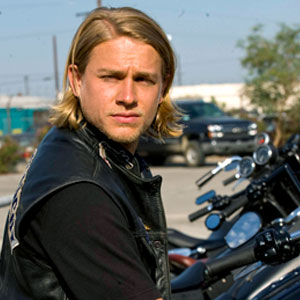 Sons of Anarchy - Jax Teller
Jax Teller, the step-son of the Sons of Anarchy club president, is a sexy baddie through and through. He has that perfect level of grit, both literally on his body and in his heart, from a life of riding the roads on his bike, and also from living a life becoming more and more entrenched in crime wars. He'll set fire to an old friend who betrayed the club, he'll shoot a man in the face for disrespecting his girl, and then he'll spend the evening in a hospital rocking chair with his sickly newborn. He's a confused soul who stands by those he loves, but still smartly doubts where they are all headed as the road ahead gets more dangerous.