Community (NBC)
Premiere: Thursday, Sept. 17, 9:30-10 p.m. (Note: Community moves into the 8-8:30 p.m. slot in three weeks, when 30 Rock returns.)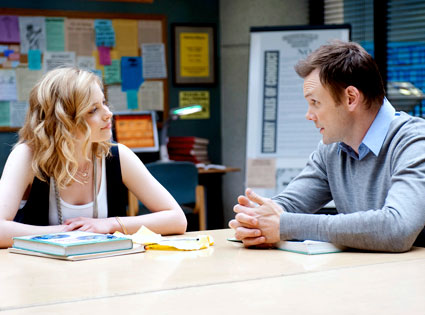 Competition: Supernatural, Fringe, CSI, Grey's Anatomy (first three weeks); Vampire Diaries, Bones, Survivor: Samoa, FlashForward (normal time slot)
Cast: Joel McHale, Chevy Chase, Ken Jeong, Danny Pudi, Gillian Jacobs, Yvette Nicole Brown
Status: We've seen the first episode.
Should you watch Community? Read on...
While we feel as though it's a bit redundant to describe a show we have been shamelessly promoting for the past few months, we must, so we'll keep it brief: Lovable jerk Jeff (McHale) is forced to further his education after his law degree is discovered to be a fake, thus leading our antihero to enroll in Greendale Community College.
Once on campus, we immediately see that Jeff's motley crew of fellow students have quite the adventure ahead of them. Jeff's instant attraction to the untrusting Britta (Jacobs) sets the tone for what's to come, as the manipulator in him takes over and Jeff forms a real-fake study group for his foreign language-deficient leading lady.
Other tutorial-needing students arrive unexpectedly, rounding out this cast of lovely, funny people. Look for the fabulous Abed (Pudi) to steal the show, with hilarious moments between Brown's Shirley and Chase's Pierce, as well as instant chemistry between Troy (Donald Glover) and Annie (Alison Brie). And after the premiere, comedian Ken Jeong pops up as Spanish professor Senor Chang--definitely worth checking out.
Community is what NBC envisioned when they created the slogan "Must See TV." It's a don't-miss show, and if we haven't already drilled this into you enough, the Peacock net's newest Thursday-night comedy is the best addition to the lineup since the equally brills 30 Rock.
Verdict: Watch!
Source:
E!Online - Fall TV Preview 2009: Community, Starring E!'s Very Own Joel McHale!