Hank (ABC)
Premiere: Wednesday, Sept. 30, 8-8:30 p.m.
Time-Slot Competition: So You Think You Can Dance, America's Next Top Model, The New Adventures of Old Christine, Mercy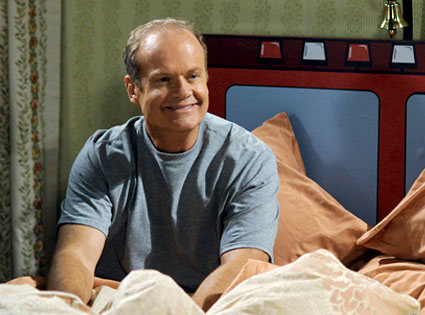 Cast: Kelsey Grammer, David Koechner, Melinda McGraw
Status: We've seen the first episode.
Should you watch Hank? Read on...
Just what this economic crisis needs: a recession sitcom! Ousted CEO Hank (Kelsey Grammer) downsizes his family's lifestyle from Manhattan luxury to small-town scrimping. Hilarious! You can tell from all the exclamation points!
Or not? We wonder how, during this national fiscal crisis, American audiences are going to respond to Hank's gung ho enthusiasm--"It's going to take more than a hostile takeover and losing our savings to get me down!" So if you're anxious or depressed about losing your job and paying your bills...snap out of it? Hank did! And so will his wife, Tilly (Melinda McGraw): "I'm used to having help," she complains about having to do her own household chores. "I've always had Consuela!" (Seriously, who isn't feeling the pain of losing their maids and housekeepers in these uncertain times?) "Well guess what?" Hank retorts. "You're Consuela now, buddy!" Talk about pulling yourself up by your bootstraps.
Also forced to adjust to their new circumstances are Hank's quirky kids--dubbed "moody Maddie" and "hyper Henry" by their sitcomically exasperated parents. Hank's brother-in-law, Grady (David Koechner), elicits a few chuckles--but nothing to match the laugh-track lolz.
For what it's worth, producers told us at the press tour they planned to reshoot the pilot, "touching on downsizing and back to basics." But if writer Tucker Cawley only felt the impact of the economic crisis with notoriously empty-shelved retailer "Circuit City going out of business," how much hope does this series have of relating to modern realities?
Verdict: Pass
Source: