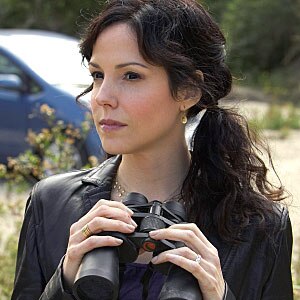 Mary-Louise Parker is not, we repeat not, saying farewell to Weeds once Jennifer Jason Leigh arrives. How do we know? We went straight to the source, executive producer Jenji Kohan, who tells us definitively, "No. That's not true." (Phew!)
Jennifer's character, Nancy's sister Jill, hits the scene in very big way, but as of now she won't be sticking around very long. Jenji dishes on that and also spills who may be giving her some loving.
"Right now we've written two that she's in, but as we write, we'll see where she fits in and if she wants to come back and play," says Jenji. "She's doing a movie, so her schedule is kind of crazy right now. It's a great piece of guest casting. We love having Jennifer here; we'd love her to do as many as she wants to do, but by no means does it edge out Mary-Louise."
Just because Jill's related to Nancy doesn't mean she'll be Nancy 2.0. "There's the same sort of damage and oddness to both of them, but they manifest it in different ways. While Nancy is acting out, Jill is repressing everything, but bursting at the seams," says Jenji.
So how does Nancy's big sis come in the picture? "She doesn't show up. The mountain comes to Muhammad. She gets pulled in and then pushes back," teases Jenji. "I think Nancy views her sister as a safe harbor for her children. I don't think Jill has that in mind." That means trouble is definitely brewing for the Botwin family.
Speaking of trouble, Andy could be finding himself in some deep waters when he realizes it would be tough going after his bro's widow, but the sister may be fair game. Jenji tells us, "I think they might use each other to work out some of their issues." Sexually use each other? "I can't say," adds Jenji.
Which sister should Andy hook up with, Nancy or Jill? Hit the comments!
Source: E!Online: Mary-Louise Parker Isn't Leaving Weeds
Photo courtesy of eonline.com