Brothers (Fox)
Premieres: Friday, Sept. 30, 8-8:30 p.m.
Competition: Ghost Whisperer, Smallville, Law & Order, 'Til Death, Ugly Betty, Sanctuary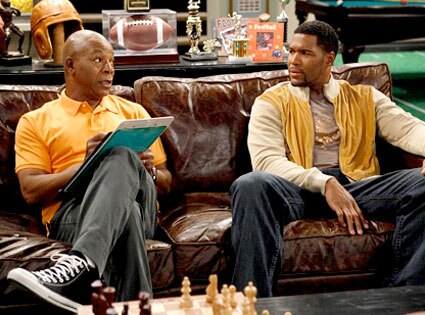 Cast: Michael Strahan, Darryl Mitchell, CCH Pounder, Carl Weathers
Status: We've seen the first two episodes.
Should you watch Brothers? Read on...
We should preface this preview by stating that Brothers really does mean well.
The story follows retired superstar athlete Mike Trainor (Michael Strahan), who's come home to help his wheelchair-bound brother's (Darryl "Chill" Mitchell) floundering restaurant and his potentially memory-impaired father, Coach (Carl Weathers). Clearly pulling all the strings in the background is matriarch and Emmy winner CCH Pounder, but as much as we love her, this role leaves us missing her more dramatic endeavors, i.e. The Shield.
However, what is intended to be a heartfelt sitcom that deals with serious issues, like physical and mental handicaps, falls flat and becomes nothing more than a half-hour comedy filled with weak jokes about Strahan's gap and "Chill" Mitchell's paraplegia (and their father's possible dementia).
Our very own Kim Kardashian comes on to stir things up in October, so that could be fun, but overall Brothers just doesn't know what it is. Is it a comedy that focuses only on the defects of others, or is it a drama about the ties that bind a family together?
Long story short, as much as we love Michael Strahan's charisma in real life, it unfortunately just doesn't transfer to scripted drama.
Verdict: Pass.
Source: