It was big. It was bigger than expected. It was record-setting. But more on the new Sandra Bullock movie later.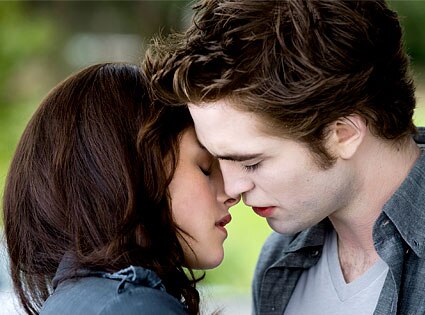 The Twilight Saga: New Moon will close out its remarkable debut weekend with an estimated $140.7 million, its studio reported today.
"I dare say in all the office pools, I don't think anyone had near this top gross," Summit Entertainment distribution president Richie Fay said.
The towering take makes the Twilight sequel the third-biggest opener in Hollywood history. Or, to put it in a way that will appease vampire-dismissing superhero boosters: Yes, The Dark Knight's opening-weekend mark is safe; and, yes, Spider-Man 3's second-place slot is secure.
But, get over your spandex-supporting selves because New Moon sucked up its own share of records:
* Biggest November opening ever, flying past Harry Potter and the Goblet of Fire's $102.7 million;
* Biggest opening two-day gross ever ($115.9 million Friday-Saturday), edging The Dark Knight's $114.8 million start;
* And all the previously reported rest: Biggest opening day ever ($67.2 milion); biggest single day ever (ditto); biggest midnight showing ever ($26.3 million).
About the only thing New Moon didn't do was, yes, claim the opening-weekend crown.
Even though New Moon made more money in its first two days than The Dark Knight and Spider-Man 3, the superhero movies scored bigger Sundays. Per Summit's projections, New Moon will gross $24.8 million today, versus The Dark Knight's $43.6 million Sunday and Spider-Man 3's $39.9 million Sunday.
At this point, it's worth taking a step back, and remembering that prior to Friday's eye-popping midnight take, nobody was calling for New Moon to even make a serious run at The Dark Knight. "I don't think we ever thought we could break their record," Fay said.
Some more New Moon factoids:
* The Twilight franchise is growing on guys. The first movie's opening weekend audience was comprised of about 17-18 percent males; New Moon's XY-contingent hit 20 percent. Said Fay: "This time around, the young boys figured out it's not too bad to be dragged along by their dates to see this movie."
* As expected, teens and tweens did not alone make New Moon. Half the audience was over age 21.
* As expected, movie reviews were meaningless. The film's critic-driven Rotten Tomatoes score was a lowly 29 percent; its audience-driven Cinema Score grade was a lofty A-minus.
* Internationally, New Moon grossed $118.1 million, bringing its three-day, worldwide total to $258 million.
* New Moon is already the 15th top-grossing movie of the year. Of that group, it is one of only five movies to not cost at least $100 million.
* New Moon covered its $50 million budget by Friday night.
As for the franchise's future, Eclipse, the third Twilight movie, is set to be released next June. Breaking Dawn, the fourth Twilight movie, will be released... Or announced... Well, when exactly?
"We are negotiating with Stephanie Meyer the best we can," Fay said, "and we're well along."
Does the exec think the franchise author will take a look at this weekend's New Moon grosses, and say, "So, now what are you going to pay me?"
Fay laughed. Then he said, "We feel fairly confident we can get this done."
Elsewhere, in non-New Moon box-office news (and, yes, there was some):
* The Blind Side, aka the new Bullock movie, was its own kind of big, with the football weepy grossing $34.5 million, the most ever for a sports drama, per Box Office Mojo stats. And, yes, that includes every Rocky movie ever made.
* Even more impressive, The Blind Side was the biggest-opening Bullock movie ever, topping even the star's summer hit, The Proposal.
* No, Planet 51 didn't cost a bajillion dollars like some CGI comedies, but it did cost a reported $60 million, and it didn't come close to impressing with a fourth-place, $12.6 million debut.
* Impressing is what Precious ($11 million; $21.4 million overall) keeps doing. Theater for theater, the Oscar hopeful made more money than any Top 10 film, save New Moon.
* Penelope Cruz's Broken Embraces (2009) ($107,597 at two theaters) and Wes Anderson's [The Fantastic Mr Fox] ($199,142 at four theaters) were actually both bigger than New Moon--in per-screen average.
* Michael Jackson's This Is It ($1.6 million; $70.2 million overall) slipped from the Top 10 after a three-weekend stay, which isn't bad considering it was only supposed to play two weekends.
* Also departing the Top 10: the superhuman Paranormal Activity ($1.4 million; $106.1 million overall); and, the super-dud The Box ($505,000; $14.5 million overall, per Box Office Mojo).
Here's a look at the weekend's top-grossing films based on Friday-Sunday estimates as compiled by Exhibitor Relations:
1. The Twilight Saga: New Moon, $140.7 million
2. The Blind Side, $34.5 million
3. 2012, $26.5 million
4. Planet 51, $12.6 million
5. Disney's A Christmas Carol, $12.2 million
6. Precious, $11 million
7. The Men Who Stare at Goats, $2.8 million
8. Couples Retreat, $2 million
9. The Fourth Kind, $1.7 million
10. Law Abiding Citizen, $1.6 million
Source:
E!Online - New Moon Makes a Lot of Money (But Not Quite Batman Money)