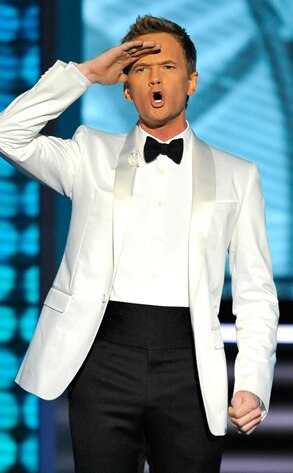 Best Opening Song: OK, it was the only opening song, but Neil Patrick Harris brings a bit of his Tony Awards song and dance to the Emmys. Unfortunately, it was nowhere near as awesome as when he did that during the Tonys. Seriously, check it out on YouTube.
Biggest Letdown: The monologue, what there was of it, was a bit of a disappointment, though.
"I love that we're already running 27 minutes late. How did that happen?"
--Neil Patrick Harris, during his opening monologue
Biggest Surprise: Unlike past years, the show is divided up so that each category's awards--except for the big Best Drama, Comedy awards--are segregated in the same part of the show. Which is great if you only want to watch the comedy awards, so you could turn the show off after an hour. We, however, have to watch the whole thing.
Better Surprise:...
The addition of John Hodgman as the official voice of the Emmys. We always figured the winged Emmy creature would sound more like Wanda Sykes, or the actress who played George Costanza's mom, but he was pretty good, too.
Biggest Meanie: Who made Kristen Chenoweth cry? One minute she's sitting there smiling, then they call her name and she's bawling. That's so mean on her big night.
"Amy and I are honored to be presenting on the last official year of network broadcast television."
--Julia Louis-Dreyfus with Amy Poehler, handing out the Best Supporting Actor in a Comedy Award
Best Scene-Stealer: Sure, Toni Collette won, but Sarah Silverman's moustache cemented her as the funniest of the funnyladies nominated. Well, except for Tina Fey (who lost this but still won an Emmy for her SNL appearances as Sarah Palin.)
Worst Cutaway: Seeing Jon Stewart jump around to say something to Stephen Colbert following Dancing with the Stars' Maxim and Karina's dance number. We're dying here: What did he say?
Most Inspirational: Sure, he wears short pants at his day job, but Jeff Probst had some serious words for people everywhere: "If you have a dream, dream big, pursue it with a passion. In the words of the great storyteller Joseph Campbell, the adventure you're ready for is the one you get. Life is short. Go for it. Thank you."
Most Thought-Provoking: Now that we think of it, Probst, we'd like a day job where we get to wear short pants.
Best Montage: Featuring wartime explosions, 19th century muttonchops and a wealth of tearful embraces, the clip that featured all the movie and miniseries clips put together would be a great movie in itself.
Worst Thing About Best Montage: We were actually in the kitchen making dinner during this part of the show, because, come on, it's not like it's Comedy or Drama, right?
Best Speech: He'll always be the White Shadow to us, but Ken Howard showed how to give a speech: It was topical (interrupting Congressmen and Kanye), funny (jokes about new media and contract negotiations), surprising (thanking the woman who gave him a kidney) and heartfelt (dedicating the award to his wife, whose birthday it was). Oh, and short, too.
"Looks like there will be three of us in the bed tonight."
Little Dorrit director Dearbhla Walsh to her partner, answering the question of where she plans to keep her Emmy award. Nice
Worst Payoff: Surely, someone probably thought giving Hugh Jackman's Oscar writers an award would mean the hunky actor would show up. They were wrong!
"You guys gave the award to the nerdiest, ugliest people...just the dumbest, dumbest, ugliest people. The least televisable you could have ever given this award to, but we thank you so much."
The spokesman for the Original Music and Lyrics winners, who nabbed an Emmy because Hugh Jackman is so hot.
Biggest Spectacle: Almost all the actresses in the Best Supporting Comedy category wore funny eyewear, but SNL's Kristen Wiig nailed it with the addition of a large, Sherlock Holmes-ian pipe, too.
Second Biggest Spectacle: There were a lot of actors--Dana Delany, Simon Baker, Kiefer Sutherland--wearing eyeglasses in order to read the Teleprompter, which makes us wonder why one of these TV FX geniuses don't just make the font bigger. Right?
"When you get something like this, it makes writing look fun, but it's not."
--Matthew Weiner, accepting the writing award for Mad Men
Biggest Lingering Question: OK, it's over. 30 Rock won. Mad Men won. So did host NPH deliver or disappoint? You make the call.
Source:
E!Online - Best & Worst of Emmys: A Big Night for Dumb, Ugly People!