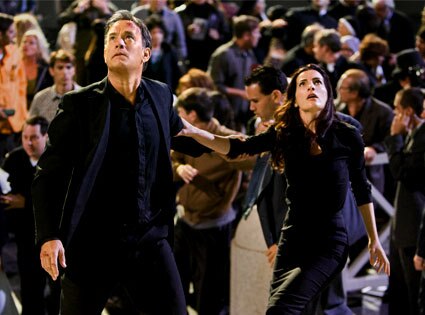 Tom Hanks' movie got it done. Jennifer Aniston's didn't. And Star Trek made things very interesting.
Hanks' Angels & Demons managed to hold off a tenacious Trek for a No. 1 finish at the weekend box office, grossing $48 million to Captain Kirk and company's $43 million, per studio estimates today.
Aniston's new indie comedy Management, meanwhile, fizzled in limited release, averaging just $1,785 from each of its screens.
Drilling down into the numbers:
* Angels & Demons, the sequel to 2006's The Da Vinci Code, didn't have the showiest weekend--it was the year's sixth-biggest--but it had an effective one, covering expectations and its reputed $125 million budget with a three-day worldwide gross of $152.3 million.
* If opening weekends were book sales--and they're not, but go with it for a second--then Angels & Demons, the movie, actually did better than Angels & Demons, the novel. The movie was 37 percent off from The Da Vinci Code's $77.1 million debut. The book, on the other hand, sold about 50 percent fewer copies than its predecessor.
* As second weekends go, Star Trek had a great one, with business down only 43 percent from its bigger-than-expected opening. By comparison, X-Men Origins: Wolverine and Watchmen, to name two other '09 fanboy flicks, each fell off by more than 65 percent.
* Overall domestically, Star Trek has nearly caught Wolverine: $147.6 million to $151.1 million.
* Technically, yes, Star Trek is now the highest-grossing Star Trek movie, surpassing Star Trek IV: The Voyage Home, which was released back when children marched 20 miles through the snow to pony up $3.71 in video-game tokens for tickets.
* Aniston's last indie movie, 2006's Friends with Money, made more money at 28 theaters ($589,332) than Management made at 212 ($378,420).
* Management is Aniston's worst-performing movie of any kind since 2005's ill-fated Rumor Has It, which averaged $1,233 in its opening weekend. Still, Management distributor Samuel Goldwyn Films said audience exit-polling for the new comedy was strong, and maintained word of mouth would turn things around.
* As the only romantic comedy in wide release, Matthew McConaughey's Ghosts of Girlfriends Past ($6.9 million) continues to hang in there.
* Monsters vs Aliens ($3 million) passed the $190 million mark. It remains the year's top-grossing movie.
* Hannah Montana: The Movie ($1.6 million) fell out of the Top 10 after five weekends, and a $75.9 million run.
* Pound for pound, the French movie Summer Hours ($47,000 from two theaters) and the Adrien Brody-Mark Ruffalo caper comedy, The Brothers Bloom ($82,000 from four theaters), were the weekend's biggest hits, averaging $23,500 and $20,500 respectively.
Read More:
E!Online - Angels & Demons, Star Trek Win; Jennifer Aniston Flick Loses