To say Sandra Bullock's All About Steve got bad reviews, is to say the Titanic hit choppy water.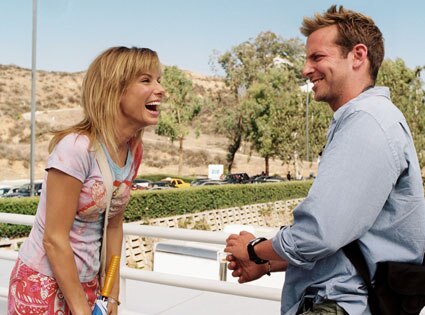 Really, really, really terrible reviews or no, All About Steve avoided disaster, grossing an estimated and respectable $11.2 million Friday-Sunday, Box Office Mojo reported, and taking second at the box office to The Final Destination, last weekend's 3D champ, which led with $12.4 million.
Gerard Butler's Gamer, meanwhile, managed $9 million Friday-Sunday, and was a player only because the Labor Day competition was so typically weak.
Here's how the long weekend is shaping up so far:
* On Rotten Tomatoes, All About Steve's Tomatometer reading was 5 percent. Five percent. If you turn on a camera, and film a wall and/or make The Dukes of Hazzard, you can rate a Tomatometer reading higher than 5 percent.
* Maybe goodwill did it? All About Steve, not only starred Bullock, hot off The Proposal, but Bradley Cooper, hot off The Hangover.
* While All About Steve wasn't a bomb, it wasn't a career highlight, either. It's Bullock's lowest-grossing wide-release movie since 2002's Murder By Numbers.
* In its third weekend, Quentin Tarantino's Inglourious Basterds stayed strong, with a $10.8 million Friday-Sunday, and came within swearing distance of $100 million domestically.
* Transformers: Revenge of the Fallen will make $1 million through Monday, Paramount Pictures estimated, and will join Hollywood's exclusive $400 million or more club. Once Revenge of the Fallen's membership is confirmed, there will be only nine members.
* District 9, the little sci-fi movie that could, broke $100 million, with a $7 million Friday-Sunday.
* Mike Judge's Extract was the least, and last, of the weekend's major debuts, with a $4.2 million Friday-Sunday take.
* The long and the short of it: G-Force fell out of the Top 10 after six weekends, and a $114.6 million run; Ang Lee's Taking Woodstock fell out of the Top 10 after one weekend, and a $6 million run.
Here's a look at the top-grossing films based on Friday-Sunday estimates as compiled by Box Office Mojo:
1. The Final Destination, $12.4 million
2. All About Steve, $11.2 million
3. Inglourious Basterds, $10.8 million
4. Gamer, $9 million
5. District 9, $7 million
6. Halloween II, $5.6 million
7. Julie & Julia, $5.2 million
8. G.I. Joe: Rise of Cobra, $5.1 million
9. The Time Traveler's Wife, $4.2 million
10. Extract, $4.19 million
Stay tuned tomorrow for updates and grosses from the full, four-day Labor Day weekend.
Source: