FX's groundbreaking cop drama The Shield came to an end in November, but could there be a future in movies for Vic Mackey?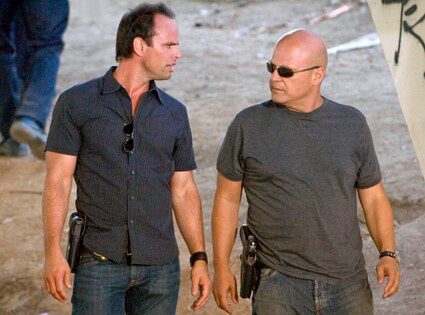 Creator Shawn Ryan and castmembers Michael Chiklis, Walton Goggins and CCH Pounder gathered to promote their series for Emmy consideration in its final season, and there was talk of a future in features.
Could it really happen? Here's what we've learned:
When a fan asked Ryan, at the Los Angeles Times' Emmy Screening Series joint event for FX's The Shield and Sons of Anarchy presented by the Envelope, if there might be more of The Shield, Ryan replied, "There is a zero percent chance" of there being more of the TV show on FX, but if Fox hears "the fans agitate" for more, it could very well pull together a feature film.
"That is bulls--t!" declared costar Walton Goggins, whose character, Shane, came to an ignominious end in the TV series' finale.
"Wait," chimed in Sons of Anarchy lead Ron Perlman. "Who's playing Vic Mackey [in this movie]? Can I audition?" To which Michael Chiklis predictably replied, "Back off motherf--ker" (or words to that profane effect). Can you even imagine a fictional fight between Mackey and Clay Morrow, or for that matter, an acting battle between Chiklis and Perlman? Brutal.
With the notable (but cheerful) exception of Goggins, the entire gang seemed up for a feature film should Fox desire such a thing.
Later, when another fan asked Chiklis to pretend for the moment that there was no possible movie and to imagine where Mackey would be in his situation with ICE, Chiklis said, "I'd rather not pretend that...I'd like to pretend that I'm not getting pushed aside by Ron Perlman...[so] I can't really answer you right now." Perlman: "I'll blow the audition, don't worry about it."
So anybody out there want The Shield cast to reunite for a major motion picture from 20th Century Fox? It looks like the writers and cast would be down, but they need your support to get the ball rolling. The comments are yours: Tell us if you're down and what you most want to see of The Shield on the big screen.
Source: