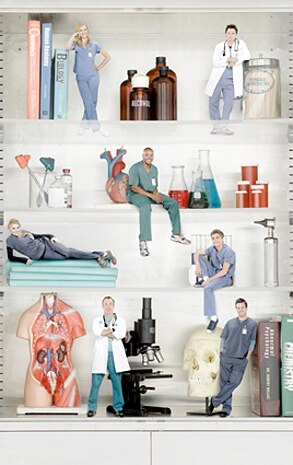 With just one more episode left in its arsenal, Scrubs 2.0 appears to be winding down, but is it really, truly ending this time around?
At first we were skeptical about its season-nine revival--the whole notion of an entirely new cast and Zach Braff-less episodes left us scratching our heads--but it ended up being a hilarious twist on the original and we instantly fell in love.
But now that show staples like Donald Faison and Sarah Chalke have booked other pilots, it's time to consider that tough question once again: Is Scrubs finally saying sayonara? If show mastermind Bill Lawrence has his way, "Scrubs is going to be on forever"...
Sadly, Scrubers, while Bill is hopeful for a lifelong run of our favorite funny docs, it's highly unlikely at this point.
"In my heart and head I felt like Scrubs ended last year," Bill told us before the Cougar Town panel at the Paley TV Festival. "This year was a bit of a spinoff, but I really liked it, I liked what they did. They worked really hard."
Having said that, the brilliant brain behind the long-running series is anticipating its end. "I'm always very honest," Bill said. "I say it's a one in 10 chance that it's going to be on after the next two weeks." Sigh.
So what's next? Aside from Cougar Town (which we highly recommend you watch after Modern Family on Wednesdays), Bill has big plans for Scrubs. "Scrubs is going to be on forever. We'll come do it at our garage," he teased. "For anybody that's a huge fan, I'm still going to be doing it in my backyard at least once or twice a week, if they want to come."
We tried to pry an address out of him, but Bill kept mum. What a tease!
Are you sad to see Scrubs coming to an end? Are you already aboard the Bill Lawrence train and tuning in to Cougar Town? Let us know below, and don't miss what looks to be the final episode of Scrubs Wednesday, March 17, at 8 p.m. on ABC.
Read More: E!Online - Is Scrubs Officially Dunzo? Creator Bill Lawrence Weighs In on the Show's Fate