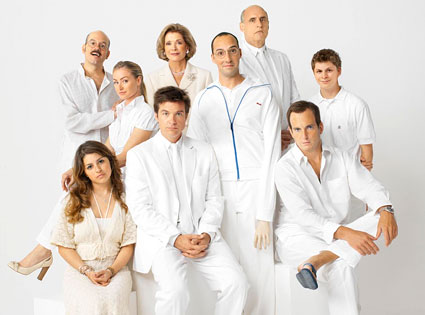 Sorry to state the obvious, but Will Arnett is a funny, funny man.
When E! News caught up with him at the Monsters vs Aliens junket to corner him about why that darned Arrested Development movie is taking so long, the jokester answered, "I think it has to do with schedules, and Jason Bateman's been in rehab for the last two years, so when he gets out, then I think we'll probably start."
Ha-ha. Find out what's really going down with this darned movie...
"I'm worried that people are going to start taking to the streets," Will tells E! News. "I imagine there are other people who are like, 'Who cares?' As far as I know, everybody's doing it."
As we reported earlier this year, everyone is doing it. That includes, along with Will, Michael Cera, Jason Bateman, Portia de Rossi, Tony Hale, Jessica Walter, Jeffrey Tambor and David Cross.
"We want to get done by the end of the year and Mitch [Hurwitz, writer/director] is actively working on [it]," adds Will. "Hopefully, by the fall, we'll start rolling, as they say."
And, as we say: Yay!
What do you want to see happen in the Arrested Development movie?
Source: Watch with Kristin - Arrested Development Movie: Rolling by Fall
Photo courtesy of eonline.com