Trauma (NBC)
Premiere: Monday, Sept. 28, 9-10 p.m.
Time-Slot Competition: Dancing with the Stars, Gossip Girl, Two and a Half Men, Lie to Me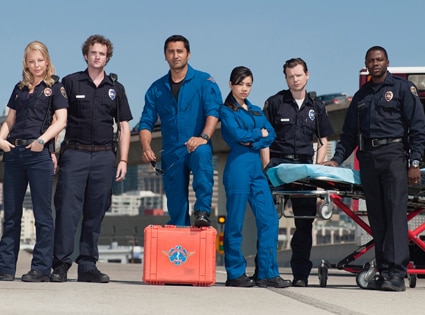 Cast: Aimee Garcia, Cliff Curtis, Anastasia Griffith, Derek Luke, Kevin Rankin, Taylor Kinney
Status: We've seen the pilot.
What's Trauma all about? Should you watch? Read on...
Executive producer Peter Berg (Friday Night Lights) sure knows how to blow stuff up.
There are two major accidents, two big budget explosions and lots of heart-pounding, high-octane, edge-of-your-seat thrills to keep you entertained in the pilot episode of Trauma, a new drama about first-responder paramedics in San Francisco. But can that level of excitement, action and production value be sustained for a whole season? "I think we can," says Jeffrey Reiner, executive producer. "We've already done major-league kind of stunts. But we're very concerned that it just doesn't become 'the pileup of the week.' "
So the potential problem with the show is this: Will we care enough to watch once stuff ceases to get blown up? Judging by the personal storylines in the pilot, we're not quite sure yet. It'll take a few episodes to find out if there's enough reason to care about these characters to make us want to watch week after week. Still, Trauma's helicopter crashes and oil-tanker explosions make for good drama and the show has enough sizzle to surprise us.
Verdict: DVR
Source: