(S04 E01) "Tonight's the night" - Dexter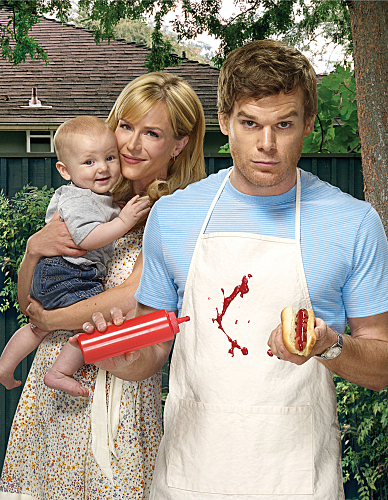 "Dexter" regains its former glory with the season return in 2009, getting me hooked after just one episode.
But before I go on, a warning that this review will contain spoilers of an un-aired episode that has been leaked online. The episode will air on September 27, 2009 on Showtime. DO NOT READ ON IF YOU WANT TO AVOID SPOILERS.
For me, "Dexter" reached its peak at the conclusion of season two. What a fantastic season. Every episode was great, and I just wanted more. And what a conclusion. It was always going to be a hard act to follow. Despite Jimmy Smits joining the cast, "Dexter" season three was a dismal failure. It was boring and predictable at best. From the very early episodes I had already guessed the entire plotline of the series, and was not surprised when Dexter killed Miguel. For me, "Dexter" had lost its charm.
So when we begin season 4 we see Dexter (Michael C. Hall), repeating the phrase we know all too well: "Tonight's the night". But tonight isn't the night of Dexter's latest killing, but rather the night Dexter gets a long-awaited sleep that his new born son, Harrison is depriving him from. And so we are introduced to Dexter's new life. Living in a house with Rita, Astor, Cody and Harrison, Dexter is fatigued and finding it difficult to adjust to his new life, let alone fit in some time for killing.
His fatigue gets the better of him, and he falters in a testimonial in court. The killer escapes, and thus Dexter has his new target. But this fatigue continues to be a problem for Dexter, finding it difficult to balance his work, home and killing.
On other fronts, a new killer is in Miami. Or should I say an old killer is back in Miami. The "Trinity Killer" (played hauntingly by John Lithgow) kills young women, slicing their femoral arteries in a bath tub. The bodies are found by the Miami police and this brings much attention. Firstly, it brings the attention of Deb, Quinn and most importantly, Dexter. With a new killer a Dexter's radar, I see trouble on the horizon. But it also brings the attention of Special Agent Frank Lundy, who has been tracking the Trinity Killer for years. This brings obvious troubles for Deb who is comfortably in a relationship with Anton.
Oh, and Angel and La Guerta are in a relationship!!!!! Who saw that coming??
When Dexter finally finds time for his vigilante kill, he is interrupted by Rita asking him to run errands. He rushes through his post-kill procedure and on his way home, he is fatigued and drifts to sleep at the wheel. His car veers off the road, and begins to roll as the end credits appear.
What a cliffhanger!!!
I for one think that this has set up a terrific storyline for Dexter season four, that is refreshing and will reinstall my faith in the show.
I am counting down to the inevitable showdown between Dexter and the Trinity Killer.
What do you think? Positive signs for the new season? Or do you disagree? Has Dexter coagulated?