This week's episode of Smallville was very much dedicated to continuing this seasons story arc. Chloe is still completely taken in by Davis, to the extent of believeing him over her own husband. Tess started revealing secrets, and Clark was forced to save her but in a way so that she never knew what was happening. And Davis started dishing out his own brand of unrelenting justice...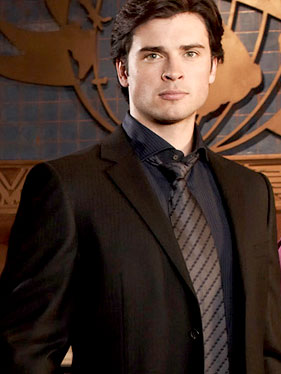 Possibly the best part of this episode for me was that we finally learned a bit more about Tess. We all know she is not to be trusted, however I still haven't completely made my mind up about her. She is right, she isn't Lex, and although she makes some ethically questionable decisions at times, I don't really think she should be written off as yet. Had she herself blown up the cockpit, killing the pilot just so Clark is forced to reveal his powers - well then she would be truly on her was to being the new Lex Luthor. But she didn't, she carefully planned the scenario so that no one was hurt. Obviously, she is manipulative, and at times devious however I believe what she said about her father and I do think that helps us to see why she is the way she is. She doesn't easily trust people, and she will always put her own wellfare infront of others so as to avoid getting hurt once again. In essence she is a survivor and I think that is what makes her a really interesting character. I'm not sure what she has in mind for Clark but she is definitely taking a different approach to Lex...
Something very unexpected occurred in this episode of Smallville... I actually felt sorry for Jimmy. As I have said in the past, I am not his number one fan to say the least. However this week I felt Chloe did to an extent betray him, and I don't really blame him for leaving her. He was already in a vulnerable state, which in a way is probably why Chloe doubted him. However, it was that state that meant that he needed her full trust and support, and for her to believe someone over him was a huge blow. I also can't help but think that Davis wasn't just trying to protect his identity, but rather enjoying discrediting Jimmy. In fact I was quite shocked with Chloe's actions also, surely you would ask Jimmy what he was doing rather than just making him go unconscious straight away. And her not revealing to Clark that they were having problems was also odd. Interesting though that Chloe's touch stopped Davis from turning into Doomsday, and something that I always thought was a possibility. Perhaps he really does love her, and it is that love which is enabling him to grasp to any humanity he has left.
Overall, not as enjoyable an episode as last week. And definitely not as eventful. As always, the lack of Lois made the episode feel like something was missing, however it was good to have some development story wise. I just hope that now Jimmy has left Chloe, she doesn't go running to Davis. As that is one relationship that is going to end in tears...