I have said it before, and I will say it again - I hate Jimmy! Seriously, when a character you are supposed to like is put in perilous danger and you actually hope he kicks it... its not good! That being said (and despite my disappointment that he was fine) this was a good episode. Especially after the rather abysmal episode of last week.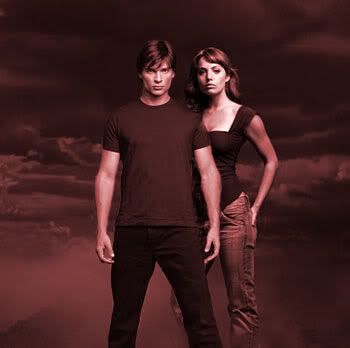 In this episode we have Maxima, a queen from another planet who, after overpowering mankind on her own world, is looking for a strong suitable mate... and of course that man is Clark. Probably the main reason for me liking this episode so much was we got a lot more development on Clark and Lois' blossoming relationship. I have found myself actually turning into a shipper! And so I loved every moment of the 'fem bot' (as Lois called her) saying she could feel the pairs connection, so much so she was willing to kill Lois.
I have also found myself undecided about Tess Mercer. I don't dislike or like her as of yet. And so far, despite some slightly shady dealings, I still haven't ruled her out. I tend to like devious characters in these types of shows too, so as long as she doesn't interfere with the Lane/Kent romance I think I might just like her. The cheeky email Tess recieved at the end of the episode amused me too, especially with the line, "Your not ready yet." This gave me a lot of questions... and I can feel this being a promising storyline.
Chloe and her new 'powers' aren't really thrilling me in all honesty. While it may come in handy every now and then, it feels far too conveniant to me. Plus, anyone closely associated with Jimmy goes down in my estimations... But I have always liked Chloe so I hope they turn her round for the rest of the season. She isn't the Chloe I am used to, and I want her back.
Overall, a good episode. I enjoyed the banter of Tess with the various characters, and Clark in that black shirt was just tantilising. Keep it up Smallville, and I will forget about last weeks episode...