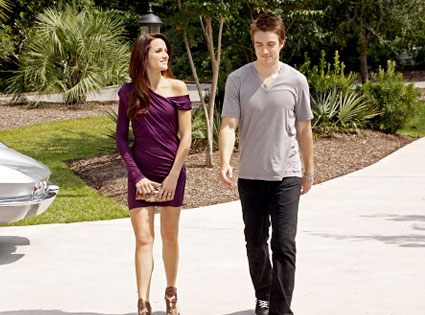 This discussion is a continuation of "Ok, I'm Just Going to Say It..." I think I'm ready to start a petition, if that's what it takes to get Quinn off the show, because she's taking it down. She and her s/l are boring, and with the show being in transition now, it can't afford that...actually, can a show ever afford to have boring characters and storylines on it? Anyways, the following is a response to totvornottotv, from the other discussion. It sums up my thoughts on why Quinn's got to go and other adjustments that need to be made on the show...quick:
I agree, totvornottotv...after watching the 5th epi, I am convinced that the Quinn s/l is bringing the show down. It's a combination of her bad acting and the writing for that s/l, which doesn't make sense. When watching it, I keep trying to understand why she won't go back to her husband, but they haven't given a good reason...she seems conflicted, like she still loves him, but wants to be free to do her own thing. I understand that in life, people don't always have good reasons for doing things, and often make bad choices, but when you're trying to drum up the viewers' interest in a new main character, you want to give people a reason to want to watch them. Whether the character is good, bad, or a mixture of both, we should be able to sympathize with them and/or be intrigued by them, and that ain't happenin' here.
Where's The Vice and Why Is She Here?
Perhaps the writers should have given the husband some sort of vice, so we could understand why she left, and warm up to the idea of her being with someone else. But they didn't, and the way she's dealt with her husband and this situation was not a good setup for a relationship with the agent. I thought I saw chemistry between the two, initially, but now the whole thing seems forced and anticlimactic. Their getting together was rushed...now they're living together? WTH? Things may have gotten a little tense at Naley's, but Haley needs her support, and her being there has also helped Jamie by raising his spirits and giving him someone else to talk to in this situation...to me, that's the only purpose she serves on the show.
Sorry, the Acting and Chemistry Ain't Cuttin' It
Maybe if the actress did a better job of drawing your interest in Quinn's character, and if she and Robert Buckley had off the wall, onscreen chemistry, this situation with them could have worked, but since none of that is the case, this s/l is essentially a dead weight to the show. I would rather see them start to explore the agent some more...I like the fact that they've written him with a little mystique, and think that investing more focus on the development of his s/l would have a better payoff. I understand why they've incorporated Alex into Brooke & Julian's s/l- to shake things up a little- but I also think they should continue to give her scenes with Clay, because I believe their interaction would be interesting. I think the actress playing Alex is a good one, because although I can't stand the character's ways, her portrayal does make the character interesting, and that is essential for a "love to hate" character. It is challenging to play the layers in a character, and I think she does that pretty well.
Brooke Is Best...Anyone Else Would Be Better
Having said that, I still don't appreciate how they seem to have relegated Brooke to the background and played up Alex...Is Brooke supposed to be support for a Julian/Alex s/l now? What the heck... I'm glad they made Millie a model, because it will be interesting to see how she and Mouth adjust to her newfound success, but other than that, it seems they're giving too much focus to the new characters, and I don't think that's a good move. I'm with you on Brooke's development- her character arc has been interesting to watch: she was fun as the bad girl, and she still is as the selfless adult, still growing and trying to find her way. I actually thought the same thing about her and Mouth, totvornottotv, back when they were in high school...also, I agree: why hasn't Brooke been included in Naley's s/l? I guess because Quinn's there, but honestly, I think it'd be better for Brooke to fill that spot because she has a bond with them and w/Jamie, so why can't she play the supportive role for them? To fill out the show more, they could also, as you said, develop Mia and her bf's characters and relationship...what's going on w/Mia on the road? Why haven't we really seen them get intimate? They could eventually bring Taylor back to shake things up a bit for Naley. I would like them to bring Chris Keller back to work with Haley and/or Mia...he was fun and he had a thing for Haley...he would be a good shake-up candidate for Naley or Mia's relationship w/her bf. The bottom line is that there are a number of things they could do to fill the show in more interesting ways...then they could send that sister away and all would be right on One Tree Hill again. Why can't TPTB see this...
Nathan & The Numbers Game
Regarding the suspicion around Nathan in this last epi, I think that girl got his number at the party when he was drunk and called it so there would be record of her number on their phone statement. She set that up the same way she slipped into Jamie's party, uninvited, and got Nathan to take a picture with her...she's framing him to get paid and/or get revenge. I'm glad they've incorporated Dan in this s/l...I'm curious to see just how he's going to deal with this skank.
So what do you fellow OTH fans think about Quinn? Keep her or kick her? What do you think of the recent Quinn/Clay hookup? Are you sticking by Nathan or are you on the fence?