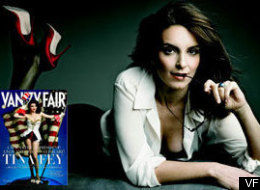 Tina Fey graces the cover of the January issue of Vanity Fair, and in an interview with Fey and her husband Jeff Richmond inside, her distinctive facial scar is finally explained as a random childhood slashing.
From the NY Post, which got an early look at the article:
...she and hubby Jeff Richmond note she's never talked publicly about a mystery slashing incident, which happened when she was 5.
"It was in, like, the front yard of her house, and some body just came up, and she just thought somebody marked her with a pen," Richmond says.
The "30 Rock" star has refused to discuss the scar. "It's impossible to talk about it without somehow seemingly exploiting it," she says.