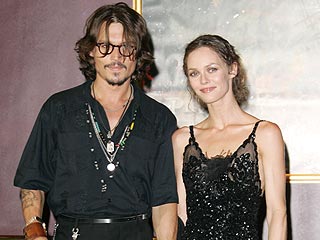 Elusive actor Johnny Depp is finally opening up about one thing - his love for his family.
"I could sit there all day and do nothing but watch them grow," he says in the January issue of Britain's Psychologies magazine. "I'm totally inspired by them."
Depp, 45, has two children - Lily-Rose, 9, and Jack, 6 - with longtime girlfriend Vanessa Paradis. He says meeting Paradis gave him "proper perspective and understanding" in his life.
"It wasn't until then that things started to get real for me," he tells the magazine. "We just have a miraculous understanding of each other."
The Golden Globe-winning actor also looked back at his more memorable roles.
"I was a million percent in love with Edward Scissorhands," Depp says of his 1990 film persona. "I remember looking in the mirror on the last day of shooting ... and thinking how sad I was to be saying goodbye to Edward."
The first Pirates of the Carribean was also a blast for the star.
Orlando Bloom and I would say to each other, 'We're actually getting paid to do this?' It felt very intimate."
But the screen idol and former Sexiest Man Alive says he hates being front and center: "I never wanted to be the guy people looked at. I don't think of myself as being a celebrity, it's too mortifying."