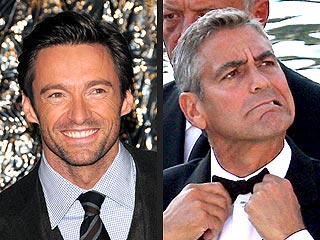 As PEOPLE's newly crowned Sexiest Man Alive, Hugh Jackman has been inundated with congratulatory phone calls. But when a certain two-time winner got on the line, it was time for some hard-core hazing.
"George Clooney rang me at two in the morning," Jackman told PEOPLE Monday at the Australia premiere in New York City. "I was half asleep and I said to him, 'Ah, George sweetie, good to hear from you.' "
But this was not a courtesy call. "He goes, "Shut up, Jackman!' " the Aussie actor jokingly recounted. "[He said,]'I know what you did! You started this big campaign that's been going on and [you] took the title away from me.' "
"I thought that was unnecessary," Jackman deadpanned.
The Wolverine star has also been getting a ribbing from his friends and family.
"My old man traveled over with me and we landed in America ... and all of sudden we were stopped at the airport and saw the Sexiest Man Alive magazine and everyone is talking about it," the actor said. "My father found it really uncomfortable."
"[My dad] said to me, 'I can't really talk to you about being sexy. It's a little weird,' " Jackman recalled. "Mind you, I'm still waiting for the birds and the bees pitch from him. That hasn't happened either!"