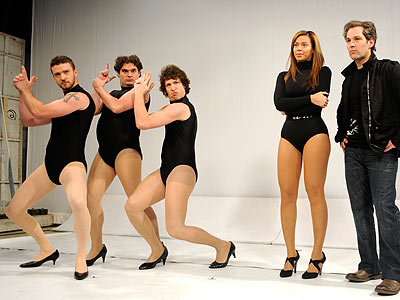 Beyonce is in awe of Justin Timberlake after he played one of her backup dancers on Saturday Night Live last weekend.
"I still can't believe he did that. He was incredible," Beyonce, 27, said on Power 105.1's The Ed Lover Show. "We rehearsed it two times. He picked up the choreography. He has this photographic memory. He could probably kill it if he wanted to."
Timberlake, in a black leotard and high heels, danced to "Single Ladies (Put a Ring on It)," one of the tracks off Beyonce's new album, I Am: Sasha Fierce. The singer said she is ready for people to see her through the album.
"With this project, I went with simplicity, because I've done everything," Beyonce said. "Half of the album is my album that I love, called I Am, and half is for the fans, called Sasha Fierce."