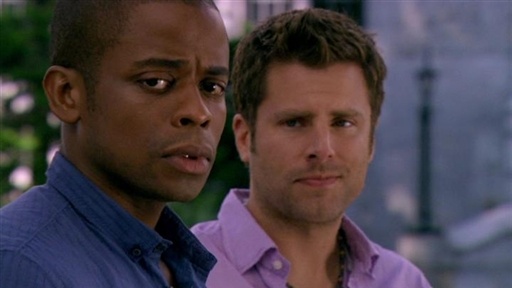 WILLOW GRIMBLEY] Stewart's sister, in her 20s, cute, offbeat and lovable, the co-owner, with her brother, of the occult store "Occultopuss," Willow is totally goth and wears fangs, but she's actually a sweet girl who's very worried about her brother. Willow believes Stewart might be a murderous werewolf, especially since he may have been bitten during a Mysterical March they took a few weeks ago, and she's relieved that Shawn and Gus, to whom she's attracted, are on the case....
[POLEXIA LI] Asian 20s - 30s, attractive, raven-haired, with a voluptuous figure, Polexia is a patient of psychiatrist Dr. Ken Tucker, with whom she's also been having an affair. An unstable kind of young woman who works as a bartender in a local Red Robin, Polexia becomes hysterical when Dr. Tucker tries to end their relationship, and she threatens to ruin his marriage and his practice...
tune in friday for barrel of laughs.