In honor of the forthcoming Independence Day celebration, here is a list of movies and television shows that will bring a proud tear to your eye and have you saying, "God bless America!"
The Die Hard Series: John McClane is America's answer to that stuffy limey, James Bond. Where Bond is an effete superspy, McClane is a rugged New York detective. Bond uses gadgets while McClane uses gusto. Bond kills baddies in a three piece suit; McClane is so blue-collar he doesn't even wear a collar, opting for that grimy tank top. John McClane: the ultimate go-it-alone cowboy. Yippee ki yay mother...
The Biggest Loser: A show where people who have ballooned to impossible mass work out vigorously for months just to return to the average weight of a human being is, somehow, uniquely American.
24: The debate rages on over torture, its efficacy and morality, and whether or not it is "American," but one man ain't afraid to use some "enhanced interrogation techniques" to protect our asses. Jack Bauer, we salute you.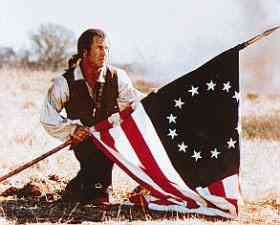 The Patriot: Our forefathers were pretty hardcore. Any movie where a man gets impaled by an American flag deserves to be on the list, and is enough to overlook the fact that the lead is played by a stinkin' Aussie. Quit outsourcing American jobs, Hollywood!
An American Tail: Fievel Goes West: A movie that captures both the immigrants' story and the taming of the frontier, the story of Fievel Mousekewitz should be taught in every American history class. No movie better explains how the West was won--by adorable Jewish mice.
Friday Night Lights: In other (less civilized) parts of the world they call soccer football. You know what we call soccer? Boring. Football is a full-contact, balls out, collision sport--nay--way of life! Not a 90 minute game of keep-away played without hands.
Independence Day: Look at the title for heaven's sake! It's right there. Will Smith and Jeff Goldblum defend the country from illegal aliens. I'm not ashamed to say it: every time I see Randy Quaid fly his F-18 into the soft spot of that mother ship, I cry.
American Gladiators: The finest display of power and grace seen on earth, American Gladiators should have a dedicated channel, and Nitro should be our president.
Remember, by no means is this a comprehensive list, so please feel free to add any "true American classics" in the comments section below.