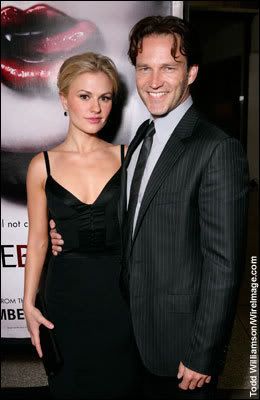 Us reports that 26-year-old Paquin, who won an Oscar at age 11 for The Piano but is probably best known as Rogue from the X-Men films, is dating her True Blood co-star Stephen Moyer, age 36 or 37, depending on what day he was born. Online sources only list his birth date as 1971.
Moyer has an eight-year-old son and six-year-old daughter from previous relationships. According to IMDB, he's previously starred in a lot of British television series.
Anna is very protective of her private life but has been romantically linked to actors Logan Marshall-Green and Kieran Culkin.
Stephen Moyer obviously also keeps his private life private, because there is bupkus online about this guy.
According to Us, Anna and Stephen have been a couple since they met filming the pilot episode.
"They are really cute together", says the source. "Extremely in love and perfectly suited."