Melrose Place (2009), Vampire Diaries and The Beautiful Life are a go at the CW.
The three dramas are being picked up for a fall launch.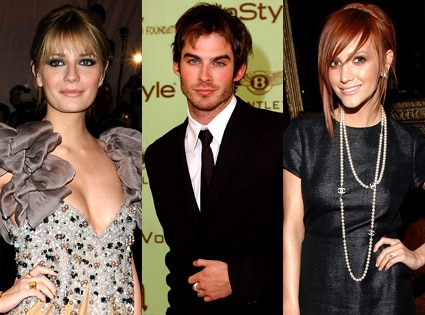 The CW hinted at its plans for "Melrose Place" and "Vampire Diaries" when it gave both pilots permission to start making offers to writers and directors.
If the CW pairs the Melrose Place reboot with 90210, that would bring together the updated versions of the Fox series and its spinoff.
With its name recognition and built-in buzz factor, "Melrose" was an instant favorite before a single page of the script was written.
Still, the CW execs waited to watch the CBS Par-produced pilot and liked what they saw.
For the WBTV-produced "Vampire Diaries," based on Alloy's series of books about a girl in a love triangle with two vampire brothers, the network hopes to catch the vampire pop culture wave ignited by the success of the "Twilight" franchise and HBO's True Blood.
And with its setting - a co-ed residence of young models - CBS Par/Katalyst's The Beautiful Life would make a perfect scripted companion of America's Next Top Model.
It doesn't hurt that both "Melrose" and "Life" have tabloid-friendly stars - Mischa Barton and Elle MacPherson in "Life" and Ashlee Simpson-Wentz. And "Life" is exec produced by Twitter king Ashton Kutcher.
The CW has a couple of other pilots, the Gossip Girl spinoff and "Life Unexpected," in consideration for midseason.