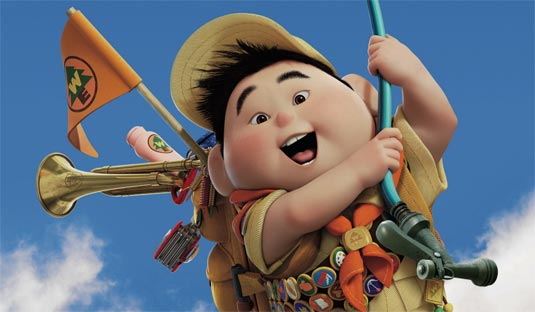 I really expected a similarity with respect to our usual animated flicks. Surprisingly this movie 'Uped' the scale in my book.
The story opened with a shy Carl Fredricksen who I initially took for Russell the annoying wilderness explorer seeking his merit badge. Surprisingly Carl was the old man when he was younger. Carl is represented for having a love for adventure and an admiration for a famed explorer Charles Muntz who journeyed to South America in order to bring back a large bird species and up his reputation.
The movie centers around Carl and Journeys through his life where he meets a girl named Ellie who in turn shares Carl's love... for adventure. Throughout the years we see Carl and Ellie grow together and fall in love and each time promise each other to go to a place called Paradise falls. Yet each time they plan to go something else comes up and they end up growing old together still having their dreams to journey to Paradise Falls and probably even live. When Carl realizes that their time would be up soon, he encourages Ellie to embark on their dreams, but she succumbs to old age and is unable to fulfill their lifelong fantasy together.
Full Review provided in the commentary.
Lexa