Finally, Beckett is open to finding the culprit behind her mother's killer.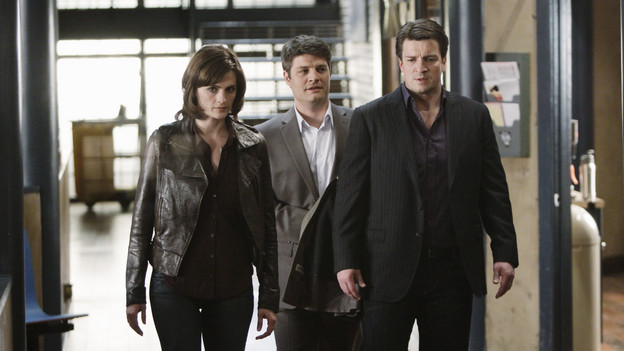 So here we are thinking it's just going to be another case solver, with Beckett and Castle joking around, having fun, then there is the 'wake up call' of Beckett's Mother's unsolved case. What are we going to do now? This plot was well executed. There were parts of the episode I lost track of; like how Beckett's mother died and the entire situation circling her mother, since the writers took so long to finally tackle it, but I got back on track soon enough.
I did not expect Beckett's mom to be brought up anytime soon, which the writers were probably gunning for; that need for suspense and curiosity. The guy behind the murder was a dead end, literally. He actually didn't seem as much of a threat, probably until he pulled Castle into a corner, forcing Beckett to choose and the dilemma would have you on the tip of your toes. I mean I didn't even care about the case before hand - did they even solve it?
I admire Castle's connection with Beckett, it probably killed Beckett more seeing the man die with the information of her mother's premeditated murderer. Who would really go through the trouble to hire someone to kill Beckett's mother? Why would the hit-man show up now, do the writers have something planned for the viewers? I'm interested, if that's what they were trying to accomplish. Back on the topic of Castle and Beckett, I was wondering how Beckett would deal with Castle and I am glad she didn't send him away, or blow a fuse. She handled everything with a level of responsibility, which makes me realize that she may even love Castle a little.
I really believed that Castle was going to resign, so I'm glad she convinced him to stay by telling him he was fun, and it is fun watching them together. It has been weeks now, but the opening theme for the show is very unique and I think I'm beginning to learn it word for word. My favorite part would be Beckett "You do remind me a little of Hooch". The both of them have such great onscreen chemistry and I wouldn't mind seeing them through for another two seasons and more...
'Sucker Punch' well Beckett did get hit hard in the gut, when she couldn't fully salvage the truth behind her mother's killers. Let's just hope Beckett finds what she is looking for.
Lexa
___________
Four Stars
Grade B+
___________