I don't question why I fully committed to Private Practice being one of my favorite series of all time. There was a time where some episodes slipped through the cracks, but I always enjoyed being humored by Addison and got sucked into the constant chaos, yet 'The Hard Part' surpassed all my expectations.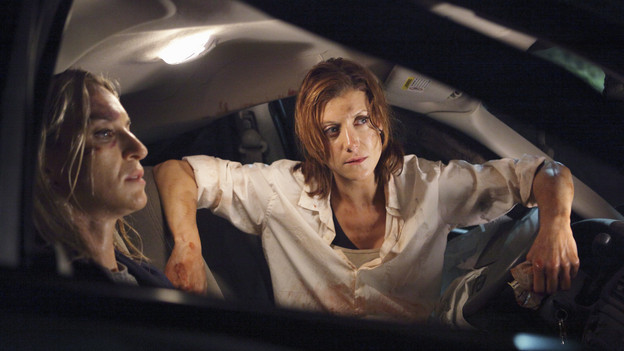 I knew Private Practice had it in them. I don't know whatever skill the writers caught on to during the season break, but it's working. After 'Strange Bedfellows', I didn't think it could get better and it did. A few moments later I am writing this review and I can't stop thinking about every detail and moment that would sink anyone's heart in.
Addison and Sam established a deep bond, being neighbors and single who would really blame them. Even on their break, they still had to work the hardest and Addison almost got killed doing the very same job she was passionate about. Private Practice has a knack for delivering heartfelt guest star appearances. Kara played by Ever Carradine was exceptional as the pregnant woman trapped in a wrecked car. Her panic and disarray was nerve wrecking and out of the middle of nowhere, their chances of survival was very slim. Jake and Kara's only hope was Sam and Addison, had they not been hiking together, they would not have found a straying Jake bruised and weak searching for any help for his wife and his child.
This entire scene was moving and it kept me glued to the screen hoping things would work for the better. Any series that has the ability to derive that grief which overcame me after Addison delivered Kara's baby girl and crashed upon being saved, is brilliant in deed. I couldn't help but shed that deep feeling of agony after Kara promised to name her child after Addison and died in her arms moments away from rescue. I soon became teary-eyed upon confirmation of her death. The support her husband gave her throughout the distress was warming and it would touch anyone's heart that they were still able to say they loved each other. Her death and Addison's reaction to her death and brief friendship was heartbreaking and I am certain a silence overcame the room as Addison struggled to escape the car to cope with her sadness.
Every week a character is highlighted and this time Kate Walsh shined through her delivery of Addison's grief, concern and warm heart such that moments were cherished and deeply felt.
Even though this heartbreaking plot out shined this episode, I am happy they were able to balance off the depressing and the enlightening. We were able to see what a weekend was like for Violet, Pete, Sheldon, Cooper and Charlotte.
Charlotte and Cooper spend a lot of time together and I have grown to admire the strength in their relationship. Charlotte bears her own burdens and they learn to lean on each other for support. It was interesting to see Charlotte's Sexology skills be put to use involving the Newly Wed couple and a husband's desire to over-perform on his wedding night. They made an interesting couple and added that humor this episode needed to mellow out the mushiness. The writers gave the couple their happy ending, but I could not have easily forgiven her for sleeping with someone else and getting pregnant. I don't care what Charlotte said about her wondering 'what if she did forgive him?', because of that mishap he would not only have to live with the affair, but father a child that is not his. The consequences of her actions would cause in dent in their relationship sometime, but they are young and in-love and she did take wrong advice from her sister (a person you can usually depend on).
Aside from the over-erected scenes, Pete's desire to 'get back on the wild horse' was explored and he winded up crossing parts with Sheldon, also willing to get back in the game. It was amusing the way Sheldon convinced Pete to leave his heart open for Violet; it actually meant that he had accepted the situation at hand. I know I really wouldn't want to have a friend like Sheldon who shrink-ed away every bit of conversation had with him. Even if Pete did get the girl, at the end of the day he realized that he was a father and Sheldon was the 'single dude' eligible to date, but I would have preferred if they didn't treat Dawn like some kind of trophy, even if she didn't mind it.
I wonder now how Violet is doing. Sure she may have Naomi (who was surprisingly omitted here), but she has to live with the distance from her son. How does she cope at home? Since she rather spend her time in the Practice as opposed to home, does that mean she is moving on from the Katie incident? Violet wraps herself in work most of the time and portrays the image of 'wellness' but does that mean she's fine? I would love to see more of Violet and her coping with this difficulty she has to overcome. I am really worried about Lucas and Pete; what if he stops holding out for her and moves on, could Violet bare that?
As much as I was impressed with this episode, I accept that Sam and Addison went through a difficult moment together and maybe the kiss was a way for them to cope with it, but I really wouldn't want it to turn into something more. I knew where the 'I had a crush on you first' talk was leading and if it wasn't for Naomi, Maya would not be in their lives. (Where is Maya these days, by the way?) I am sure Naomi would have some issues with their bondage, if not noticeably, then subconsciously. I would give them a break for now because they did go through something traumatic and Addison not only lost a patient, but a friend.
They did this one so beautifully and this series is beginning to live up to every fan's expectations. I really wonder if they would be able to top this one, because they were able to warm their way into our hearts. If only there were more like this!
Lexa
___________
Five Stars
Grade A++
___________