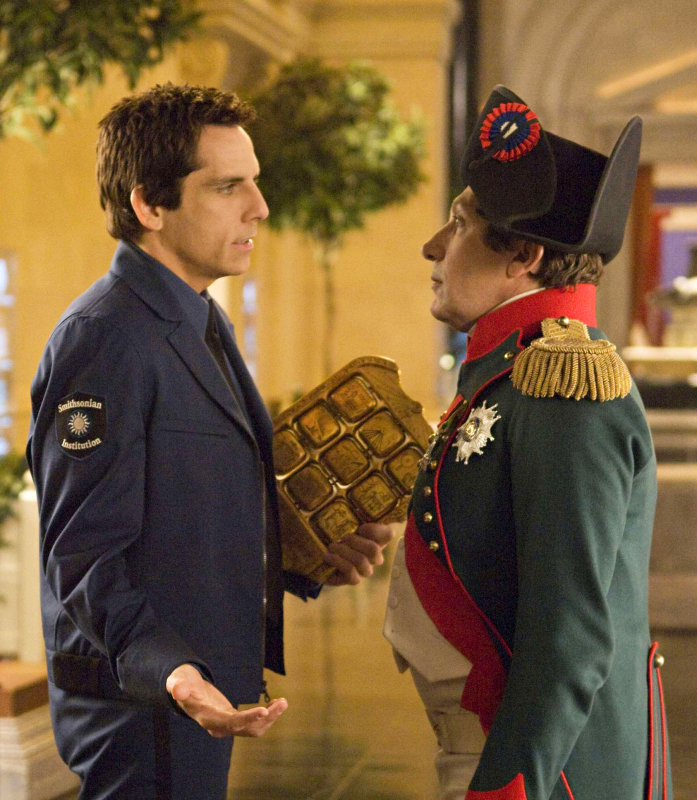 Another fresh clip from upcoming comedy "Night at the Museum: Battle of the Smithsonian" has arrived. Nearly one and a half minute long, the snippet unravels the scene with Ben Stiller's Larry Daley, Alain Chabat's Napoleon Bonaparte and Amy Adams' Amelia Earhart as the center of attention.
The clip starts with Bonaparte and his army seizing Daley. Stepping in with a dagger in his hand, the French leader tries to insult Daley's short posture. But, much to his surprise, Daley talks back about the Emperor of the French's famous stature. When Earhart cuts their argument about the height issue, Bonaparte turns the discussion subject into women before finally forcing Daley to follow him.
In "Night at the Museum 2: Battle of the Smithsonian", Ben Stiller returns as the bumbling night security guard Larry Daley. When the Museum of Natural History is closed for upgrades and renovations, the museum pieces are moved into federal storage at the Smithsonian Institution, the house of more than 136 million items in its collections, and Stiller is in for more trouble.
Bringing another "Night at the Museum" comedy fantasy to life, the comedy movie stars also Hank Azaria, Owen Wilson, Steve Coogan, Ricky Gervais, and Dick Van Dyke among others. This sequel is scheduled to hit U.S. theaters on May 22.